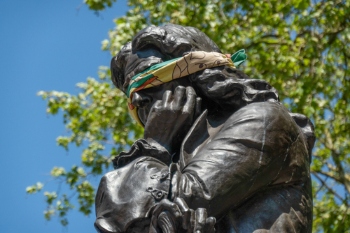 Individuals who want to remove any historic statue, whether listed or not, will now require listed building consent or planning permission, communities secretary Robert Jenrick has announced.
Under the new regulations, if the council intends to grant permission for removal of a particular statue and Historic England objects, the communities secretary will be notified so he can make the final decision about the application in question.
Historic England and the secretary of state will apply the new policy of 'retain and explain', meaning historic statues will only be removed in the most exceptional circumstances.
'For hundreds of years, public statues and monuments have been erected across the country to celebrate individuals and great moments in British history,' said Mr Jenrick.
'They reflected the people's preferences at the time, not a single, official narrative or doctrine. They are hugely varied, some loved, some reviled, but all part of the weft and weave of our uniquely rich history and built environment.'
The legislation is in response to the toppling of a statue last year of the Bristol-based slave trader Edward Colston and the wider debate about statues of historic figures who benefited from slavery and colonialism or who held racist views.
Mr Colston was a manager and deputy governor with the Royal African Company (RAC) between 1680 and 1692. During this time, 84,500 enslaved Africans were transported on RAC ships, with nearly 20,000 dying before reaching shore.
Responding to a decision in 2018 to remove a portrait of Mr Colston from the lord mayor of Bristol's office, the historian David Olusoga explained that no one was trying to 'change the past or hide from history. It's about whether or not we should venerate a man who was responsible for the deaths of thousands of innocent people.'
'We cannot – and should not – now try to edit or censor our past,' said Mr Jenrick.
'That's why I am changing the law to protect historic monuments and ensure we don't repeat the errors of previous generations, losing our inheritance of the past without proper care.
'What has stood for generations should be considered thoughtfully, not removed on a whim, any removal should require planning permission and local people should have the chance to be properly consulted.'
'Our policy in law will be clear, that we believe in explaining and retaining heritage, not tearing it down.'
Image: Ian Luck / Shutterstock.com.