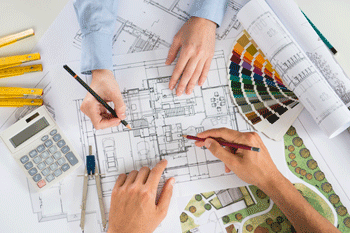 New planning laws coming into force today will allow commercial premises to be converted into homes without requiring a full planning application.
Housing secretary Robert Jenrick argues that an expansion of Permitted Development Rights (PDRs), which allow for changes to be made to a building without planning permission, will help high streets 'bounce back from the pandemic' and deliver much-needed homes.
However, the new powers have been criticised for undermining the ability of local authorities to plan their local areas.
The new rules will also allow for bigger extensions to existing public buildings including schools, colleges, universities and hospitals.
'We are creating the most small business friendly planning system in the world to provide the flexibility needed for high streets to bounce back from the pandemic,' Mr Jenrick said.
'By diversifying our town and city centres and encouraging the conversion of unused shops into cafes, restaurants or even new homes, we can help the high street to adapt and thrive for the future.
'The public also want improvements to public services as quickly as possible and so these changes will also help schools and hospitals to adapt quickly to changing needs with a new fast track for extending public service buildings. This will help deliver more classrooms and hospital space by helping them extend further and faster.'
However, Ian Fletcher, director of Real Estate Policy, British Property Federation (BPF) argued that the move would 'do more harm than good'.
'Local communities and their representatives will be perturbed to discover that just about any shop, restaurant, nursery or other community facility now comes with an automatic right to convert to residential,' he said.
'New residential development can play a vital role in town centre recovery post-COVID but poorly-planned PDR homes will do more harm than good. It'll result in a piecemeal approach, without taking into consideration what the entire high street requires to successfully serve the community.'
The Government has expanded the use of PDRs on a number of occasions. In 2020, they legislated to permit conversion between a much wider range of commercial and retail premises, and created new rights to allow unused office buildings to be converted into residential property.
The new legislation also gave homeowners the right to add additional stories to existing post-war homes.
Critics of PDRs argue that they undermine the ability of councils to focus on place making.
Mr Fletcher continued: 'If we are to build back better we need responsible development and a holistic approach to a high street's future, which means new homes are planned for, to ensure the right balance is achieved between residential and the other offers – whether that be shops, gyms, restaurants, nurseries, soft play for kids and sports halls – so that every business and new home support one another, to create coherent and thriving neighbourhoods.
'This new PDR will take control away from local authorities at a time when our high street's future depends more than ever on strong local leadership and vision.'
Cllr David Renard, housing and planning spokesperson for the Local Government Association (LGA), stressed the need of councils to have a voice in the planning process.
'Local government shares the collective ambition to build more homes in the right locations, genuinely affordable for local people to either rent or buy, of high quality and the right type,' he said.
'For that to happen, councils and local communities need to have a voice in the planning process and be able to oversee all local developments. This is crucial so they can shape the area they live in, ensure homes are well designed, built to a high quality, with the necessary infrastructure in place and affordable housing provided.'
The Housing, Communities and Local Government Committee earlier this month launched a new inquiry to examine the Government's approach to permitted development rights (PDRs).