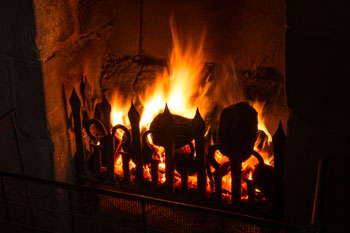 Local authorities could be granted new powers to take action against persistent smoke offenders as part of a push to improve air quality.
The Government has launched a consultation on proposals to cut harmful emissions of soot and smoke caused by the burning of dirtier fuels in order to heat homes.
The domestic burning of house coal, smokeless solid fuels and wood is the single largest contributor of harmful particulate matter (PM) emissions, accounting for around 40% of total UK PM2.5 emissions in 2015.
The tiny particles in smoke can enter the bloodstream and have been found in internal organs risking long term health issues as well as breathing problems in the short term.
In order to tackle these emissions, the Government is consulting on proposals to give councils the powers to take action for persistent smoke offences where local amenity is harmed.
It is also considering only allowing the sale of low sulphur smokeless alternatives to coal.
The consultation will also look at ways to encourage consumers to switch from wet wood to dry wood, and will consider the introduction of sulphur limits for all smokeless solid fuels.
'We all have a role to play in improving the air we breathe. Many of us enjoy a cosy fire in our homes, but burning dirtier fuel has a real impact on the quality of air for our family and friends around us,' said Environment Minister Thérèse Coffey.
'We must be mindful that pollution is about more than just transport. Poor air quality affects public health, the economy, and the environment, which is why we are determined to do more.
'However, if we make the switch to burning cleaner domestic fuel, we can continue to enjoy burning wood and smokeless coal in stoves and fires in our homes.'