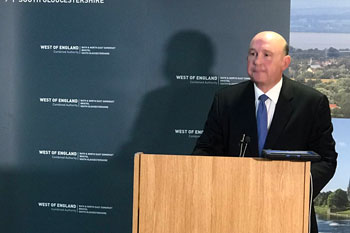 Conservative Tim Bowles has become the first mayor of the West of England Combined Authority.
He managed to beat Labour's Lesley Mansell by 70,300 votes to 65,923 after the counting of first and second preference votes.
He has pledged to work with the council leaders of Bath and North East Somerset Council and South Gloucestershire Council.
He said: 'From a personal perspective, I am honoured to be elected the first West of England regional mayor.
'It truly is an honour and I look forward to working on behalf of everyone in the region.'
Turnout for the election was only 29.7%.
Congratulations Tim Bowles! A new champion for the West of England is born #MayoralElections https://t.co/fkWA2Jd9FP pic.twitter.com/sueFueKAfB

— Sajid Javid (@sajidjavid) May 5, 2017
Labour's Steve Rotheram has been elected with a clear majority to be the first metro mayor of the Liverpool City Region. He won 59% of the vote, with the Tory candidate coming second with 20%.
In Doncaster, Labour's Ros Jones has been re-elected as mayor with a majority of 50.92%, 32,631 votes.
Turnout in Doncaster was 29.35%
Conservative candidate Ben Houchen has also become the first mayor of Tees Valley. He won just over 51% of the vote with a turnout of 21%. Meanwhile, his Conservative colleague and former John Lewis boss Andy Street won the West Midlands mayoral election.
Labour's Andy Burnham has become the new mayor of the Greater Manchester Combined Authority.
What did turnout look like for the mayoral elections? #le2017 pic.twitter.com/TZ6MJExVRz

— LGiU (@LGiU) May 5, 2017
Jonathan Carr-West, chief executive, LGiU said: 'The big question mark hanging over the mayoral elections has been whether turnout will be big enough to give the new mayors the mandate and legitimacy they need to hit the ground running and to act as an effective political counterweight to Whitehall.
'At around 30%, it's broadly in line with turn out for the county council elections that happened yesterday and with local elections generally. It's certainly far better than the disastrously low turnout we saw in the first Police and Crime Commissioner elections.
'The new metro mayors will be local government leaders working with other leaders, often heading cabinets of council leaders: this level of turnout will mean they can do this with the same level of mandate as the rest of local government.
'Most incoming mayors will be privately pleased with this level of turnout, while hoping to raise their profile in office and improve significantly upon it next time they go to the polls.'
Photo: @WestofEnglandCA