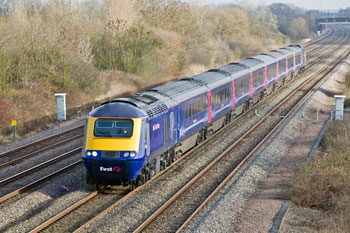 Three councils have warned that residents living near the commuter train line running through the Chilterns are being exposed to dangerous levels of pollution.
Westminster and Birmingham councils and Oxfordshire County Council have written to Chris Heaton-Harris, a transport minister, and Edward Argar, a health minister, requesting that Chiltern Railways be asked to switch to alternative fuels to cut emissions.
According to an air quality monitoring station on Boston Place, outside Marylebone Station, nitrogen dioxide (NO2) levels peaked at 81 µg m-3. The World Health Organisation (WHO) guideline level is 10 µg m-3. Particulate matter (PM2.5) peaked at 40 µg m-3, where the WHO's guideline level is just 5 µg m-3.
At Moor Street station in Birmingham (where the Chiltern line terminates) there are also very high levels of air pollution with NO2 levels exceeding 100 µg m-3 at times, more than 10 times the WHO limit.
'I hope that you will work closely with your Government colleagues to apply tangible, meaningful solutions as part of the contract renewal, as well as delivering our residents a clear timetable for improvement,' the letter read.
'This will ensure they do not suffer the inevitable health consequences long term, should these extreme levels of pollution be allowed to continue.'
Cllr Rachael Robathan, leader of Westminster City Council, said: 'Promises of road maps to decarbonisation on rail with no clear timescale are little comfort to those local people who are being subjected to unacceptable levels of pollution.
'We have an opportunity to act now or the Government will have missed a clear chance to protect public health. When pollution is exceeding World Health Organisation limits on a daily basis, you don't need a diagram drawn to recognise the risk.'
Birmingham City Council leader Ian Ward commented: 'Councils along the Chiltern Line are working hard and making tough decisions to tackle air pollution, but our efforts must be matched by others. Cleaner air is a public health priority and, if diesel cars are being progressively phased out, the same must apply to diesel trains.'
Cllr Liz Leffman, leader of Oxfordshire County Council, added: 'It's clear that diesel trains must be consigned to history given the nation's aims to become carbon zero. We have a golden chance right now to make progress in that direction by ditching diesels on the Chiltern Line.
'We urge the Government to stand by its net zero commitment and make this decisive move, while at the same time improving air quality through the beautiful Chilterns area and beyond.'