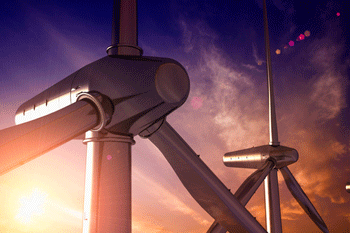 Communities will be given the power to block all future onshore wind farms under new Government measures, the new energy secretary has announced.
Amber Rudd, who was appointed in the recent post-election reshuffle, said local people would be put 'in charge' of local developments by handing councils the power to green-light onshore sites.
Town halls would however be forced to consult on developments with local communities, who could block any new turbines from being constructed.
In an interview with The Sunday Times, Rudd said the Conservative Government would also loosen rules surrounding shale gas meaning it could be extracted from under national parks.
However limits would ban drilling on sites of outstanding natural beauty or groundwater. Rudd said that while she 'quite enjoys' seeing windfarms, 'we can't have them on a scale in areas where people don't want them'.
It is understood the reforms would not affect the 4,000 onshore wind turbines thought to be already in construction or the 3,000 planned projects.
Legislation would also ban subsidies paid to operators of onshore wind farms, Rudd confirmed.
'It will mean no more onshore wind farm subsidies and no more onshore wind farms without local community support,' she said.
'This is really important. I've already got my team working on it. That's going to be one of the first things we're going to do.
'I've put a rocket under the team to get it done, putting the local community back in charge. We're looking to do the primary legislation as soon as we can.'