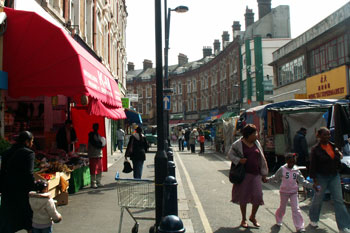 Almost a year ago, I wrote a piece imagining what we want our high streets to look like next Christmas. Almost a year on and we are not where we hoped we would be. The UK has seen only a 0.8% increase in retail sales so far over the festive period – and the latest news regarding the Omicron variant looks set to dash any lingering hopes of a late surge in spending on the high street.
The pandemic has continued to cripple footfall on the high street, which reached an all-time low in May, when the British Retail Consortium reported a 78% year-on-year decline. After two years of ongoing lockdowns, business closures and huge pressure on bricks and mortar stores, our high streets are unlikely to ever return to the scenes of Christmas past. Online retail continues to climb rapidly, and we can't ignore that these changes are here to stay.
In my column a year ago I argued that greater community power could give our high streets the boost they desperately need and it is starting to happen. Power to Change, is launching a new initiative in partnership with the Mayor of London to give local communities direct say and power over the future of their high streets.
England's first ever Community Improvement Districts (CIDs) are being launched to revitalise two communities in north London - Kilburn High Road and Wood Green High Road. They will be the testing grounds for an approach that puts communities at the heart of strategic decisions about the future direction of these local high streets.
So, what are Community Improvement Districts and how can they help our high streets? They are a concept which exists in different forms across the US, and are beginning to take root in Scotland. They are an evolution of Business Improvement Districts, where businesses raise a levy and use this to collaborate to create a better business environment in their town centre, boosting regeneration. The key difference is Community Improvement Districts work in partnership with local councils and the community to give local people and organisations a say over the strategic direction of local high streets alongside businesses. By bringing different local actors together, town centres can adopt a broader view as to what is required to create a more vibrant, inclusive future..
In Wood Green, the existing Future Wood Green Business Improvement District will work with Haringey Council to develop a community driven model and a new food-based identity for the area. They will be working with community growing groups to create a food growing space and garden on an under-utilised carpark roof in Wood Green.
The Kilburn High Road Community Improvement District is a community partnership led by Camden and Brent councils and this is a model that more local authorities should consider and work to replicate. A range of initiatives will help regenerate Kilburn High Road, including repurposing underused high street buildings to provide the space required for developing grassroots and community projects, including a 'Library of Things'.
Partnership between local councils and their community to shape local areas can bring many positive impacts - with one benefit being increasing residents' sense of ownership and responsibility for their high street. Community organisations moving onto the high street help provide diverse and vibrant activities, services and places for people to meet that are well suited to the individuals that live there. All of which will strengthen the local economy.
It is this involvement of the community in shaping town centres which we believe is critical to saving struggling high streets. For too long, our town centres have been dominated by the interests of property owners and investors who have no stake in the long-term prosperity of the place in which they operate.
Community businesses – organisations owned and run for and by the community – are a crucial element for a successful Community Improvement District. They go far beyond consultation and give communities a tangible stake in revitalising their communities,
As these new Community Improvement District pilots develop, I hope they will show both central and local government of the value of involving community in the regeneration of high streets and local areas across the country. Community power will restore residents' pride in their towns and cities, while the presence of community businesses will help to drive up footfall, embed local identity and ultimately create more resilient town centres.
For more information on Community Improvement Districts, please visit the Power to Change website: https://www.powertochange.org.uk/.
Vidhya Alakeson is CEO of Power to Change and member of the Government's High Streets Taskforce.