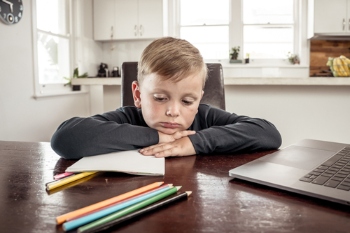 More children are struggling with their mental health due to the impact of the pandemic, the Children's Commission has warned.
Children's Commissioner Dame Rachel de Souza has published a post-pandemic analysis of children's mental health to mark the start of Children's Mental Week.
NHS spending on Children and Young People's Mental Health Services (CYPMHS) has increased for a fourth consecutive year, up to £881m, a real terms increase of 4.4% in the last year, the commissioner found.
Eight out of 10 (82%) Clinical Commissioning Groups (CCGs) increased spending over the same period. Over half of CCGs (135) are spending up to 1% of their budget on children's mental health, the benchmark for CCG spending in the NHS 'Long Term Plan'.
However, the number of children referred to NHS mental health services for children fell during the pandemic.
In 2020/21 497,502 children were referred compared to 539 000 the year before. At the same time, in 2017 one in nine children had a probable mental health condition, a figure that jumped to one in six in 2020 and 2021.
'Reading the over half a million responses to my Big Ask survey it revealed a generation of children who are clearly very conscious of the importance of their physical and mental health and how interlinked these things are,' the commissioner said.
'They recognise the importance of having and maintaining good mental health now and for the future, in order to succeed. Whilst the majority were happy with their mental health, we know some are struggling.
'Where they need support from Children's mental health services, I see improvements, and a focus on further improvements but also there's still a long way to go. Despite reductions in some waiting times children still wait too long, even if fewer are being turned away.
'I want to see all of us to come together to help our children stay mentally healthy but also when they need it, to get the right help, in the right place at the right time.'
Progress has been made on waiting times and the number of children accessing treatment, the commissioner reported.
For children accepted into children's mental health treatment services, average waiting times have fallen from 43 days in 2019/20 to 32 days in 2020/21. However, over a third of children accepted onto waiting lists are still waiting for their treatment to begin.
Responding to the report, Mark Russell, chief executive at The Children's Society, commented: 'It clear that there are still major barriers and stigma around mental health for children and young people and early support is essential.
'While increased spending on children's mental health is vital, much more needs to be done and we want to see early support hubs in every community, where children can go and get help when their problems first emerge, before they escalate and reach crisis point.'