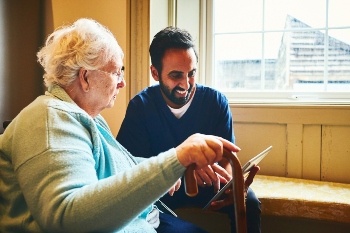 Not enough local authorities or care providers are using the available technology within social care to keep people safe at home, a new study finds.
A commission led by The Association of Directors of Adult Social Services (ADASS) and the TEC Services Association (TSA) has heard evidence from nearly 60 people including individuals and their relatives who access social care support, front line care professionals, directors of adult social care, housing and health leaders and technology suppliers.
It found that while there were pockets of best practice, digital projects are rarely joined up and turned into intelligence to prevent people reaching a crisis.
The commission is calling on Government to fund a two-year programme of 10 social care innovation projects to begin the process of normalising the use of digital within social care. To support this programme, the commission also urged the Government to include digital literacy and data sharing training in its future social care workforce strategy.
It also said that £450m of Government investment was needed to replace current care and housing technology infrastructure, much of which is outdated.
The commission's report urged directors of adult social care to make their services more proactive by collaborating with service providers and manufacturers so health and care data from apps and devices can be used by the social care workforce to identify people with needs.
Iain MacBeath, strategic director of Health and Wellbeing at City of Bradford Metropolitan District Council and ADASS honorary treasurer, concluded: 'Truly integrating technology with adult social care has eluded most parts of the country. There are some shining examples, but it's rarely connected or proactive.
'This Commission has sought to understand why this is and how we can change it. We are recommending that new, digital skills should be brought into councils, different tender specifications must be used, and that the Government future-proofs technology infrastructure through proper investment.'