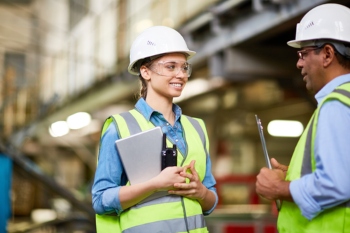 The Government has been urged to make urgent reforms to the apprenticeship levy by a coalition by local government and major employers in London.
A new paper sets out how reforms and new flexibilities to the 'flawed' system could incentivise employers to take on more apprentices and minimise the risks of long-term unemployment.
The changes proposed include temporarily extending the amount of time employers have to spend their levy from two years to three years, extending the availability of the current employer incentives and allowing some levy funding to be used for pre-employment training.
The paper has been published by London Councils, the Greater London Authority, London Chamber of Commerce and Industry, London First, West London Alliance, Central London Forward, South London Partnership and Local London.
Cllr Clare Coghill, London Councils' executive member for skills and employment, said: 'Unnecessary barriers to using apprenticeship levy funding means that Londoners are missing out on vital opportunities to gain skills and experience – skills that are essential to London's recovery. Businesses are also being blocked from creating apprenticeships that help to fill their skills shortages and support their growth.
'Across London government and business, there is a strong consensus that we need to act now to ensure jobs and training opportunities, including apprenticeships, are made widely available. Apprenticeship levy reform is the best way of maximising the potential of apprenticeships to equip people with the skills they need to thrive in the labour market, move into different industries or roles and ultimately support our recovery from the pandemic.'
Data collected by London Councils shows boroughs generated 3,137 apprenticeships during the 2020-21 financial year, compared to 3,693 the previous year.