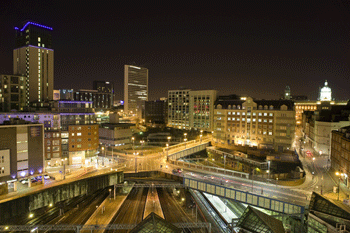 A historic year for tourism in Birmingham has seen a record 34 million visitors travelling to the city over the past twelve months.
Research suggests the amount of money spent by visitors in the midlands city rose by £60m to reach £5.34bn last year, helping to create an additional 2,100 local jobs.
The report from the Regional Observatory and Global Tourism Solutions reveals the number of people visiting Birmingham has risen by 12% since 2006, with the value of the city's visitor economy growing by 20%.
Cllr Ian Ward, deputy leader of Birmingham City Council, said: 'The impact of Birmingham's many wonderful attractions continues to bring wealth and growth to the region.
'More people than ever are choosing to spend their leisure time here; our continued investment in transport links, infrastructure and marketing have all contributed to this ongoing success.'
Paul Kehoe, Birmingham Airport's chief executive and chairman of Marketing Birmingham, added: 'Greater connectivity and the continued drive by the Airport, Marketing Birmingham and other key tourism partners to put the city and region on the map will ensure that Birmingham's tourism figures will keep on climbing in the right direction.'