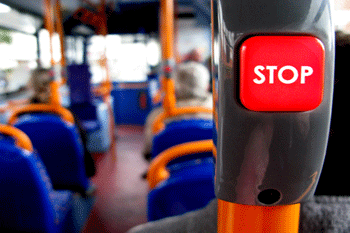 Birmingham, Greater Manchester and Oxford have all committed to procure only zero-emission buses from 2025 in a bid to reduce air pollution and make their cities 'healthier.'
The leaders of the three authorities signed up to the C40 Fossil-Fuel-Free Streets Declaration which includes a series of targets aimed at making cities zero emission by 2030.
They join other cities such as London, Tokyo, Seoul, Warsaw and Oslo.
Signatories to the Declaration 'envision a future where walking, cycling and shared transport are how the majority of citizens move around our cities.'
Along with a number of other targets, the leaders of Birmingham, Greater Manchester and Oxford will now be required to collaborate with suppliers, fleet operators and businesses to accelerate the shift to zero-emission vehicles and reducing vehicle miles in cities.
Air pollution currently cuts short about 40,000 lives across the UK every year, and health experts have warned that there is no safe level of NO2.
'Today, I stand alongside the mayors of some of the greatest cities in the world. I'm committed to a cleaner, greener and healthier future for Greater Manchester,' said mayor of Greater Manchester, Andy Burnham.
'Around a third of greenhouse gas emissions in our city-region come from transport and road traffic is the biggest source of air pollution.
'We are currently developing a Clean Air Plan for Greater Manchester to help tackle this urgent health and environmental issue.'
Cllr Waseem Zaffar, cabinet member for transport and environment at Birmingham City Council, said: 'In Birmingham, we are committed to addressing the issue of air quality and are currently working on proposals for a Clean Air Zone which will see the most polluting vehicles charged to enter the city centre as we move to encourage more people to walk, cycle or use public transport instead.
'We want to work with our partners at Transport for West Midlands to bring forward the cleanest bus fleet possible to help us achieve a city where our children, their children and future generations to come all have access to clean air, as is their basic human right.'
'Oxford City Council is listening intently to the Oxford scientists and their warnings about the threat of a warming world and air pollution,' said Tom Hayes, Oxford City Council Cabinet member for a safer and greener environment.
'The rise in temperatures isn't inevitable, it's a choice, and this city council chooses a sustainable city that works for everyone.
'From 2020, we're set to become the world's first zero emissions zone to clean up our dirty air and reduce the harmful effects of pollution.'