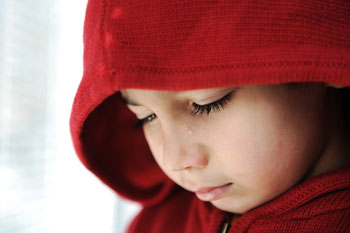 The value of child benefit has fallen to a record low, a think tank says 40 years after the benefit was established.
The Resolution Foundation has found that the benefit, which supports around seven million families, has dramatically decreased in value since the onset of austerity.
Many families are also no longer eligible for the welfare payment.
The value of Child Benefit was boosted significantly in 1991, 1999 and 2009.
However, caps and cash freezes have meant that for the coming tax year on 6 April, the real-terms value of the benefit has fallen by around £210 a year since 2011-12, or £350 for two children.
The value of the welfare payment for a first child has fallen back its 1999 level, while for a second child it will be lower in real-terms today than it was when it was first introduced back in 1979.
The Resolution Foundation's report also found that the benefit is no longer universal.
The effect of tapering it away once someone's earnings reach £50,000, and the complete withdrawal once earnings reach £60,000, is that one in five families no longer receive child benefit in full.
The analysis also shows that families with a main earner between £50,000 and £60,000 can face marginal tax rates of over 70%, due to the tapering of child benefit.
Adam Corlett, senior economic analyst at the Resolution Foundation, said: 'Today Child Benefit – Britain's most widespread benefit for families – turns 40. But its anniversary feels more like a wake than a celebration.
'A decade of caps, freezes and restrictions have meant that the value of Child Benefit has, for some families, fallen to a 40 year low. A fifth of families are no longer entitled to it in full.
'If these trends continue, child benefit could be abolished in the coming years and subsumed into Universal Credit.'
An HMRC spokesperson said: 'Child benefit remains a universal, non means-tested benefit payable to families as a contribution towards the costs of raising a child or children. The Government has no plans to phase out child benefit nor to merge it with Universal Credit.
'The Government spends around £12bn a year on child benefit and, as at August 2018, we paid it to 12.7m children.'