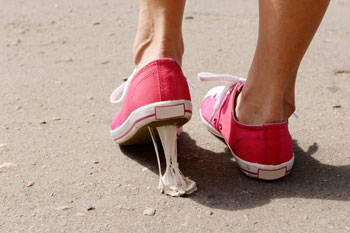 Major chewing gum producers have signed up to a new multi-million-pound partnership to remove gum litter from the high streets.
The scheme, including Mars Wrigley, GlaxoSmithKline and Perfetti Van Melle and managed by independent charity Keep Britain Tidy, will see gum firms invest up to £10m over the next five years to help reduce gum litter.
Around 87% of England's streets are stained with gum, according to research by Keep Britain Tidy. The annual clean-up cost is estimated at £7m.
The investment, starting later this year, will be used to clean up historic gum litter staining and use behavioural interventions to encourage people to bin their gum.
'The stains of discarded chewing gum are a blight on our communities, spoiling our streets and wasting millions of pounds of taxpayers' money,' said environment minister Rebecca Pow.
'This new scheme means chewing gum producers are not only helping to clean up towns and cities as they welcome people back to our high streets, but crucially taking action to prevent people littering in the first place.'
Allison Ogden-Newton, chief executive of environmental charity Keep Britain Tidy, said: 'Keep Britain Tidy are delighted to be working with Defra and the chewing gum industry to clean up gum from our streets and critically stop it being dropped in the first place.'