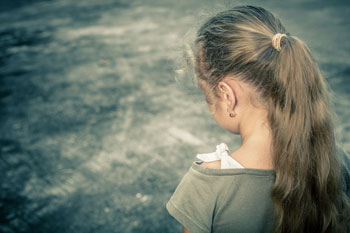 A children's charity has welcomed the Prime Minister's 'new mission' to put prevention at the top of the mental health agenda, but warn that cuts to children's services undermine progress in this area.
Theresa May today pledged to provide better access to education, training and support for front-line workers across communities as part of an overhaul of society's approach to mental illness.
As part of the new program, teachers will be taught how to spot the signs of mental health issues and schools will be given updated statutory guidance outlining their responsibilities to protect children's mental wellbeing.
School mental health leads will receive more support so that they can help children struggling with self-harm and risk of suicide.
Local authorities will also receive extra funding to strengthen and deliver local suicide prevention plans.
'Too many of us have seen first-hand the devastating consequences of mental illness, which is why tackling this burning injustice has always been a personal priority for me,' said Mrs May.
'But we should never accept a rise in mental health problems as inevitable.
'It's time to rethink how we tackle this issue, which is why I believe the next great revolution in mental health should be in prevention.
'The measures we've launched today will make sure at every stage of life, for people of all backgrounds, preventing mental illness gets the urgent attention it deserves.'
Simon Wessely, chair of the Independent Review of the Mental Health Act, said that Theresa May 'deserves credit for drawing attention to those with the most severe mental illnesses yet who are the most overlooked.'
He added that today's announcements are a 'welcome step'.
However, Sam Royston, director of policy and research at The Children's Society, said that PM's announcement was 'mostly a re-packaging of previously announced measures'.
Mr Royston acknowledged that the extra teacher training was welcome, but added that Government cuts to children's services prevent local communities from tackling mental health problems.
'Just because teachers and social workers will be able to "spot the signs", it does not mean they will have the resources and support to do anything about it, especially given he massive cuts to funding available for children's services,' he said.
The Local Government Association (LGA) has calculated that children's services currently face a funding gap of £3.1bn by 2025.