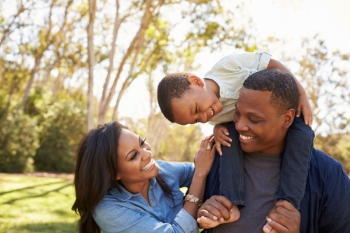 An adoption charity has called for improvements to the adoption assessment process in order to encourage more members of the black community to become adoptive parents.
According to a survey for Adoption UK's Adoption Barometer report, less than 5% of adoptive parents came from the black, Asian and minority ethnic (BAME) community in 2019.
National statistics reveal that black children are disproportionately represented in the care system. Figures from the Department for Education show that of the 78,150 children looked after at the end of 2019, 8% were of Black or Black British ethnicity. But just 3.7% (60) of the 3,570 looked after children who were adopted in England during 2019, were Black or Black British.
There are a number of specific barriers which can stop people considering adoption, according to the charity, including misconceptions about the type of person who can adopt, fear of the process being overly intrusive, or a mistrust of authority.
As part of National Adoption Week, Adoption UK called for improvements to the adoption assessment process, to ensure it is geared to meet BAME adopters' needs. The charity says the key to encouraging adopters to come forward is a guarantee that they will be well supported.
Mike Rebeiro, Adoption UK's chair of trustees,?said: 'As an adoptive parent of dual-heritage, I strongly believe that no child should be waiting in care because of the colour of their skin. Interracial adoption can be hugely successful. But there are obvious benefits to placing a child, who is already wrestling with issues around their identity, with a family that looks like them and is well-placed to support their culture and heritage.'
Mr Rebeiro added: 'Adoption can be challenging, and families will usually need support, but three-quarters of adoptive parents told us they would recommend adoption to others.'