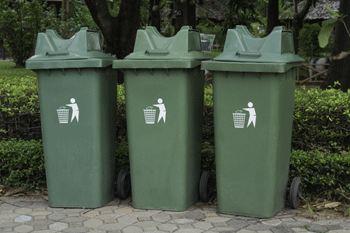 Councils in England should be set the ambitious target of recycling 70% of all waste collected by 2025 in order to keep pace with Welsh councils, an environmental charity has said.
Keep Britain Tidy said England should 'hang its head in shame' after new figures showed nearly 60% of waste collected by councils in Wales is now being recycled.
This compares to 44% in England, a figure that has remained static over the past two years.
As part of Wales' long-term waste strategy, every local authority must meet recycling targets that rise to 70% by 2025 or face financial penalties.
Keep Britain Tidy's deputy chief executive, Richard McIlwain, said: 'The success in Wales reflects very badly on the situation here in England.
'If the Government is serious about getting to grips with waste then it needs to look at what has been implemented in Wales and consider whether measures such as targets for individual local authorities, streamlined and consistent recycling bins and collection frequencies, together with statutory requirements around food waste collection, could drive up the faltering recycling rate in England.'