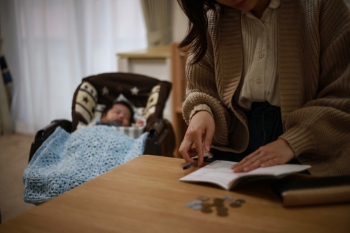 The Chancellor should use some of the reported £20bn fiscal windfall to provide emergency support to squeezed households, report says.
A new study by the National Institute of Economic and Social Research (NIESR) warns of a real income decline of 2.4% in 2022, accompanied by a small rise in unemployment in 2023 to 5.1%.
For 2022-23, the institute estimates that 1.5 million households across the UK will face food and energy bills greater than their disposable income, with the highest incidence in London and Scotland.
NIESR called on Rishi Sunak to use some of the reported £20bn fiscal windfall to provide emergency support that cushions this income shock.
They calculated that a Universal Credit uplift of £25 per week between May and October 2022 would benefit about five million households and cost around £1.35bn.
In addition, they recommend that £2.85bn should be given to the 11.3 million lower-income households, amounting to a one-off cash payment worth £250 per household for 2022-23.
Without this targeted support, the NIESR expects a further increase in extreme poverty: in 2022-23, about 250,000 more households will slide into destitution, taking the total number to around one million, while approximately another 500,000 households face the choice between eating and heating.
Professor Adrian Pabst, NIESR's deputy director for public policy, said: 'Prices will push up bills, drag down demand and increase income inequalities. The big squeeze on budgets will hit the lower-income households hardest who live in some of the most economically and socially deprived parts of the country.
'To stop an additional 250,000 households from sliding into debt and destitution, the Chancellor should instate a £25 per week Universal Credit uplift for at least six months. And to help the lower-income 11.3 million households that struggle to make ends meet, we call for a one-off cash payment of £250 in 2022-23. This emergency support costs about £4.2bn, which is affordable given the fiscal room for manoeuvre that the OBR in March put at £20bn.'