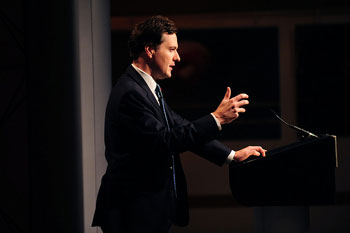 Chancellor George Osborne has committed to £100bn in infrastructure spending by 2020 to 'get Britain building'.
Launching the new National Infrastructure Commission, the chancellor pledged £100bn for infrastructure projects, including full funding for the £15bn Roads Investment Strategy.
The chancellor, who was speaking at the National Railway Museum in York, pledged that infrastructure would be at the heart of the upcoming Spending Review where he will announce a suite of asset sales that will raise the necessary cash.
Standing alongside the commission's head, Lord Adonis, George Osborne said: 'Infrastructure isn't some obscure concept – it's about people's lives, economic security and the sort of country we want to live in. That's why I am determined to shake Britain out of its inertia on infrastructure and end the situation where we trail our rivals when it comes to building everything from the housing to the power stations that our children will need.'
The National Infrastructure Commission will focus on three key areas:
• Northern connectivity: identifying priorities for future investment in the North's strategic transport infrastructure to improve connectivity between cities, especially east-west across the Pennines.
• London's transport system: reviewing strategic options and identifying priorities for future investment in large scale transport improvements – on road, rail and underground – including Crossrail 2.
• Energy: particularly exploring how the UK can better balance supply and demand, aiming for an energy market where prices are reflective of costs to the overall system.
Lord Adonis said: 'For Britain to get on with the job of delivering high-quality infrastructure that benefits everyone, you need more than just a commitment to invest – you need long term forward plans and the maximum possible consensus.'
'That is what the National Infrastructure Commission is here to promote,' he added.
The announcement comes after the 2015 CBI/AECOM Infrastructure Survey showed that two thirds of businesses want the Government to speed up on infrastructure action.