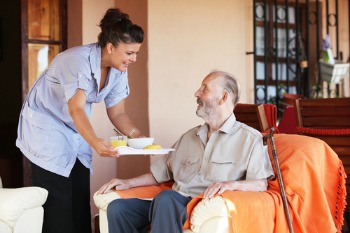 Chancellor George Osborne has been criticised for failing to address the subject of social care in yesterday's Budget announcement.
Professor Martin Green OBE, chief executive of Care England characterised the lack of any mention of social care as 'dangerous'.
'We commend the chancellor for looking to the long term in aspects of his budget, but it is dangerous for him to ignore social care,' he said.
'The care sector employs more people than the Red Army and when the National Living Wage begins to bite it is all the more important that the sector is recognised, resourced and supported.'
He also warned cuts to the budgets of local authorities would leave those dependent on care in a 'fragile position'.
Echoing Professor Green's concerns, Dr Rhidian Hughes of the Voluntary Organisations Disability Group (VODG) said the absence of any mention of social care 'was an obvious and concerning void in today's budget'.
Dr Hughes described the sector as having reached 'a perfect storm' with the increase in both demand and unmet needs.
'Welfare reforms and cuts to services are leaving fewer and fewer people eligible for essential care and support services,' he said.
'Yet the chancellor's budget statement said nothing about these pressing matters.'
Dr Hughes also emphasised the importance of funding prevention and integrating health and social care, but warned there was insufficient money.
'The budget fails,' he warned, 'to provide the right financial structures to support a very fragile sector.'
He continued: 'The chasm between the costs of delivering services and what commissioners are prepared to pay has grown so wide that providers are handing back contracts. These are the consequences of deliberately overlooking urgent and unmet need in the sector.'
There have been calls for the Government to bring forward £700m for the Better Care Fund, which will be made available at the end of the decade, to this year in order to help fund social care services.
Last Monday, medical leaders wrote an open letter to George Osborne calling for the extra funding to be brought forward. They said hospitals were unable to discharge patients because of social care cuts.
However, there was no mention of this in yesterday's budget.
Lord Porter, chairman of the Local Government Association, characterised this as 'disappointing'.
'It is disappointing that the Chancellor has not accepted calls by councils, the NHS, care providers and the voluntary sector to bring forward the £700m of new money in the Better Care Fund by 2019/20 to this year.'
'The failure to do so,' he continued, 'means vulnerable members of the community still face an uncertain future where the dignified care and support they deserve, such as help getting dressed, fed or getting out and about, remains at risk.'
He also warned a lack of support for social care services would place a lot of pressure on the NHS and lead to a care home crisis.