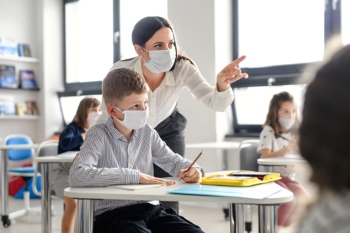 The catch-up plans for pupils across the UK are 'insufficient' and unlikely to address the scale of learning loss following the pandemic, a report has warned today.
The report from the Education Policy Institute compares the education catch up plans of the four UK nations.
It found that Scotland provided the most generous funding per pupil for catch-up, followed by England.
However, the catch-up programmes of Wales and Northern Ireland are far better targeted at their most disadvantaged pupils.
The report found: 'Whilst these plans all represent welcome additional support, they are all relatively modest compared with the scale of the challenge, with pupils so far missing out on about half a year of normal face-to-face schooling.
'Policymakers across the UK should be providing much more catch-up funding, with substantial funding targeted at the most disadvantaged pupils, who are more likely to have fallen behind.'
The report, which was funded by the Nuffield Foundation, also found that all UK nations failed to provide sufficiently detailed guidance to schools and local authorities on how they are expected to deliver education for pupils with SEND in the Autumn term.