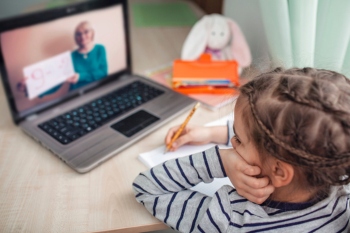 Four in ten children did not meet the minimum guidelines for learning time during the pandemic despite improvements in home learning, a report has found.
Research by the Institute of Fiscal Studies (IFS) shows the quality of home learning in England improved substantially over the first year of the pandemic, especially for more disadvantaged pupils.
However, these improvements will not be enough to overcome the large inequalities caused by the first lockdown, the researchers warned.
During the first lockdown, children from the poorest families had nearly eight fewer hours of learning compared to the richest pupils. However, by February/March 2021 the share of pupils being offered online classes increased by 30%.
Angus Phimister, a research economist at IFS and an author of the report, said: 'The first lockdown was particularly tough on the schooling of children from disadvantaged backgrounds, who spent around eight fewer hours a week learning than their better-off peers.
'Welcome improvements during the second round of school closures meant that learning experiences looked much more similar. But catch-up policies need to be carefully designed to be taken up by poorer pupils if they are to have any chance of putting a dent in the educational inequalities that have grown so much wider during the pandemic.'
The report also found that outside of national school closures, provision for absent students was poor. Just 40% of pupils had access to interactive learning resources during the Autumn 2020 term, with only 35% of poorer pupils having access to live or pre-recorded lessons.