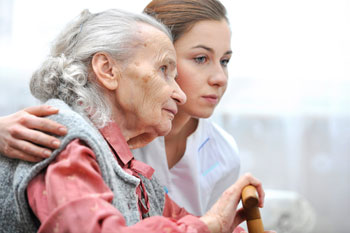 Home care workers are still being 'exploited en masse', union leader says in the wake of a major review into modern employment practices.
The independent review - the results of which are due to be published today - is being criticised by unions for not going far enough in its recommendations.
Carried out by Matthew Taylor, the chief executive of the Royal Society of the Arts and a former policy chief to Tony Blair, the review looks at employee rights and responsibilities within the gig economy, and the regulatory framework surrounding employment.
Mr Taylor reportedly would like to see an end to the 'cash-in-hand economy' and recommends employees working in the gig economy be classified as 'dependent contractors', entitled to greater employment protections.
However, Len McCluskey, the leader of the country's biggest union Unite, said the review 'spectacularly failed' to tackle the key issues.
'This review raised the prospect that the scourge of insecure working in this country would be tackled,' he said.
'It raised the hope that work would once again pay and there would be no profit in exploitation. It indicated that fairness and dignity would be restored to working life.
'But it has spectacularly failed to deliver on any of these.'
'The report does nothing to address the rampaging growth in forced self-employment, which has shot up as the government's austerity programme bites,' Mr McCluskey continued.
'Neither will it address bogus self-employment, and the unacceptable use of zero hours and agency work to deny someone a permanent, full-time job.'
'The only ones who will be celebrating the Taylor report are the rogue employers and those who have grown rich on the hard labour of those desperate for employment,' he added.
This opinion was shared by GMB general secretary Tim Roache.
'If the Taylor review does indeed call for a radical overhaul of employment law, the recommendations that are leaking out seem to miss the point,' he said.
'What we've seen so far is tinkering around the edges and creating more loopholes employers will inevitably exploit.'
Mr Roache said current employment laws and tax and national insurance structures were 'sufficient' before adding the problem was enforcement.
'Unscrupulous employers are ignoring the rights which workers already have and are not paying their fair share of taxes,' he continued.
'Any report worth its salt on the modern world of work absolutely has to tackle the use of agency and precarious work as a business model - thousands of people work in perpetual insecurity while vastly profitable companies can make even more in profit while refusing to pay the taxes they owe all of us.'
Commenting on the Taylor review, Unison general secretary Dave Prentis focused on home care workers and described the current employment system as 'fundamentally flawed'.
'There is serious room for improvement in employment practices particularly for home care workers who are still being exploited en masse,' he said.
'It's shocking that so many are not even paid the legal minimum for the work they do. This significantly undermines care standards and pushes a large proportion of the workforce into poverty or away from the profession altogether.
'In many cases, workers can't tell whether they are being paid for all the hours they work because their payslips are so confusing. And employers have been allowed to get away with this for too long.
'If we want elderly and disabled people in need of care to be treated with dignity, then care workers must be treated with dignity as well.
'But the system is fundamentally flawed as workers are now priced out of justice because of the introduction of tribunal fees.'