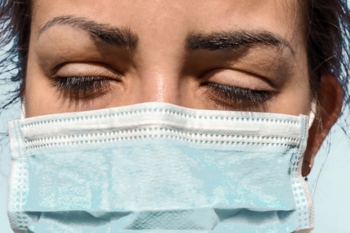 Care providers across the country are finding individual services hit hard by staff absences caused by COVID-19, an association for social care providers has warned.
A snapshot survey by the National Care Forum (NCF) has found that individual services are reporting between 11% and 40% staff absence, and a few services are reporting staffing absences of over 50%.
According to the survey, the absences were caused by a combination of COVID-19 positive cases being picked up by PCR testing, self-isolation following contact tracing, shielding and childcare responsibilities.
These staff shortages are forcing providers to run services through a combination of offering extra overtime to other staff, bringing in staff from other services and not accepting new referrals or admissions from hospital or the community.
'It is essential that Government takes heed of this early warning signal that care services are under immense pressure,' said Vic Rayner, executive director of the NCF.
'Staff in care services have been at the very front line of this battle against COVID-19 for over 11 months, and are shattered both physically and emotionally. In the midst of this, individuals and teams are stepping up once again to flex and cover large-scale staff absences brought about by a combination of testing, self-isolation, shielding and childcare. They are undoubtedly heroes, but asking them to do this over and again is not sustainable.'
'While the recent focus has been on the pressure being experienced by hospitals and the NHS, this is a red flag that pressure is mounting in the social care sector too. We must pay close attention to this as social care is integral to the overall system,' Mr Rayner continued.
'If people cannot be supported to leave hospital, whether that is by moving into a care home or having care at home, then the whole system will fail. NHS saves lives – but so does social care – and it must be properly supported to ensure that it can play its vital role in making the whole system work for communities.'
Ms Rayner urged the Government to take action 'to ensure social care services can provide the care and support so desperately needed.'
'Additional capacity needs to be resourced and built into care services to allow for full staffing to be available in the light of short-term absences of the nature that services are seeing during this period of exceptionally high community transmission. Vaccination for care workers must be delivered at pace, and we need prioritised turnaround of testing from care homes,' she said.