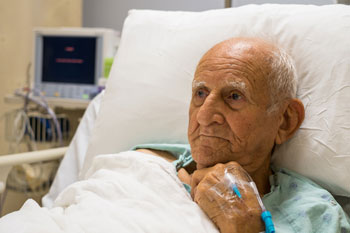 Carers have called on the PM to bring forward reforms aimed at fixing social care as a new survey reveals more than a quarter of care recipients said their health had deteriorated because of a lack of care.
Published by Care & Support Alliance (CSA), the survey of over 4,000 people found that because of a lack of care one in seven (14%) said they needed hospital treatment, and more than a quarter (28%) said their health had deteriorated.
The situation was worse for carers where 2 in 5 (41%) said their health had deteriorated because of their caring responsibilities.
Published in the report, A Cry for Hope: why 2021 must be the year for social care reform, the survey results also show that nearly one in four respondents said they had asked for help during the pandemic but didn't receive any.
The CSA is calling on the Prime Minister to treat social care with the same parity of esteem as the NHS.
It is also urging Mr Johnson to fulfil his promise to fix social care by urgently bringing forward reforms and increasing funding.
Commenting on the survey findings, Caroline Abrahams, co-chair of the CSA and charity director of Age UK, said: 'Our threadbare social care service was already unable to help a large portion of those who needed care before the pandemic, now its fragility is adding unnecessary pressure on hospitals just when we are all making huge sacrifices in order to protect the NHS. We know unpaid carers and care staff are doing all they can but there simply isn't the money to give people the care they need.
'Good quality care and support results in healthier people, and whilst that might mean greater investment in social care, it has the potential to save NHS resources. More importantly, it is the right thing to do. These two important issues are interdependent and need to be treated equally so people can get the care they need.'
The survey found that nearly one in 10 (9%) missed medical appointments because of a lack of care and more than one in 10 (12%) have been unable to get food or shopping.
More than one in three (32%) respondents reported having felt lonely and more than 1 in 10 (11%) have been unable to work.
A further one in 10 said they were often worried about how to cope and stay safe and three in 10 (31%) of those who had difficulties doing day to day activities said they never got any help or assistance.