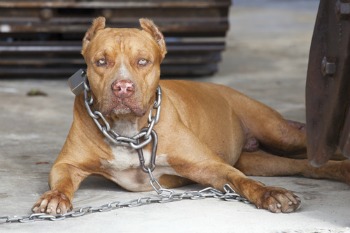 Campaigners are calling for tougher measures to tackle dog fighting, following a six month investigation into the 'resurgence' of the problem.
An undercover investigation by the League Against Cruel Sports found animals being severely injured or killed while being trained to fight, cats and dogs being used as bait and prohibited dog breeds being bred and sold to meet demand.
The group is calling for a national dog fighting action plan, including a three year minimum custodial sentence for convicted dig fighters and for details of offenders to be held on a national register.
Eduardo Gonçalves, CEO of the League Against Cruel Sports, said: 'If anyone thinks dog fighting is a thing of the past, then sadly they are wrong. Last year we commissioned a ground-breaking academic report which said that a dog fight was taking place every day in the UK. This year we've taken to the streets to find out exactly what was happening, and the results are frightening.
'Dogs are being bred and sold specifically for fighting, pet animals are being used to provide a steady supply of torture victims for cruel training exercises where they are tethered down or used as dangling 'bait' for dogs being trained to fight for 'fun' – the cruelty behind this underground world is endless and it's happening right under our noses.'
The campaigners also warn that dog fighting is also a 'gateway' crime to other serious and organised offences such as drug and gun crime.
Henry Smith, co-chair of the All-Party Parliamentary Group for Animal Welfare, added: 'I support the League Against Cruel Sports with their campaign to both increase the available custodial sentences to at least three years and their call for a national register of animal abusers.'