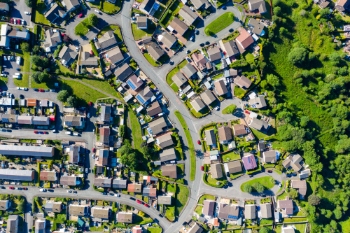 All new homes should be within 10 minutes' walk from shops and schools if the UK is to reduce its carbon emissions, sustainable transport campaigners say.
Sustrans is calling for the National Planning Policy Framework (NPPF) to refuse planning permission for new homes that are not within walking or cycling distance of amenities.
Primary schools, shops, bus stops and GP surgeries should be within 800 metres – or a 20-minute walking round trip – of the all new properties, the charity said.
Sustrans also said that in order to deliver these '20-minute neighbourhoods', transport and land use planning systems need to be much more joined up.
Rachel Toms, director of Urbanism at Sustrans, said: 'The planning system is part of the supply chain of carbon emissions, locking many people into car dependence.
'Currently there is no legal duty for the planning system to deliver on Net Zero targets or healthy, inclusive environments. For the UK to meet its legally binding Net Zero targets – and to improve the health of the nation and level up communities – the planning system has to make it ultra-convenient for people in new developments to walk, wheel, cycle and use public transport.'