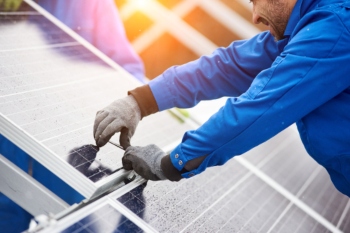 The London Borough of Camden Council has announced plans to create climate bonds to fund environmental projects.
The council said Camden Climate Bonds would help finance green projects across the borough such as a new generation of solar power.
Local Climate Bonds were successfully piloted by Warrington and West Berkshire councils last year and allow residents to invest from as little as £5 to help local authorities pay for green initiatives in their area.
Five other councils across the UK - Blaenau Gwent, Cotswold, Eastbourne, Islington and Lewes - have already joined the Local Climate Bonds campaign to explore launching green bonds in next 18 months.
Cllr Adam Harrison, cabinet member for a Sustainable Camden, said: 'Camden is a leading local authority on the climate agenda - we have committed to do all that we can to make Camden a zero-carbon borough by 2030, twenty years ahead of national targets set within the UK Climate Change Act.
'However, we must all go much further and quicker if we want to make a real difference, and we can only do that through a joined-up approach with communities and organisations across Camden.'