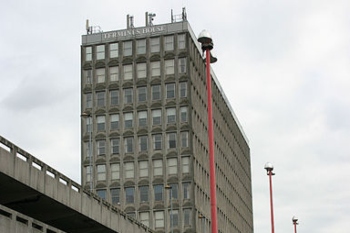 Converted office blocks that are being used to house vulnerable homeless people should be closed down, the MP for Harlow has said.
Speaking in parliament yesterday, Robert Halfon said places like Terminus House and Templefields should be 'shut down, once and for all'.
I have just delivered my speech about office-to-residential conversions in Harlow. We are let down by Councils. We are let down by poor legislation. We are let down by weak planning guidelines. Places like Terminus House and Templefields must be shut down, once and for all.

— Robert Halfon MP -Working Hard for Harlow- (@halfon4harlowMP) February 13, 2020
The leader of Harlow Council has also written to over 70 council leaders urging them to stop sending families to converted office blocks in the town.
Cllr Mark Ingall said: 'I know that there is a national housing crisis, which brings many challenges to councils in placing people in affordable accommodation. However last week's BBC Panorama programme on life inside converted office blocks has once again highlighted the unsuitability of placing people in permitted developments without proper assessment and support.
'Not only do I call for councils to review their housing policies, but I also repeat my call for permitted development rights to be reviewed and for the local housing allowance cap to change.'
An investigation has revealed that councils are spending £1.1bn on temporary accommodation every year, with 86% going to private landlords or companies.