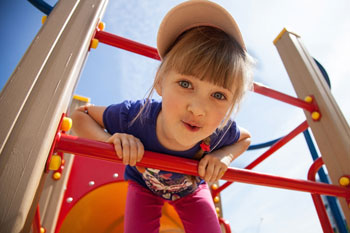 The decline in public playgrounds is 'pushing' children away from outdoor play, a new survey has revealed.
The survey of by Mumsnet for the Association of Play Industries found greater access to playgrounds would help children become more active and reduce indoor screen time.
It revealed that nine out of ten parents who did not live close to a playground said that having access to one would make their child more active.
Over one third (35%) of parents have experienced the closure or neglect of their local playground. Of those parents close to a local playground, only 13% said they would be happy for their child to play there unsupervised.
Mark Hardy, chair of the API, said: 'Children are being 'pulled' indoors by screens and 'pushed' away from outdoor play because of the alarming and continued decline in public playgrounds.
'They are experiencing a childhood where time spent playing and being active is negligible compared to previous generations.
'The overwhelming majority of UK children live in urban areas. For these children, and particularly those in the most disadvantaged areas, public playgrounds are their only chance for outdoor play.'
The API has launched a new campaign – Play Must Stay – calling for urgent and sustained investment in public play provision.