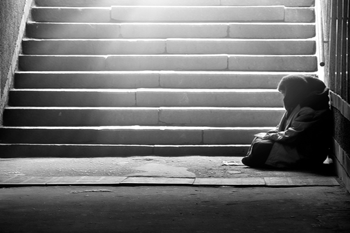 The scale of the rough sleeping population in England 'far exceeds' the Government's previous estimates and has been made clear during the pandemic, auditors find.
An investigation into the housing of rough sleepers during the COVID-19 pandemic by the National Audit Office (NAO) found that the Ministry of Communities, Housing and Local Government (MCHLG) 'swiftly' provided emergency housing for rough sleepers during the first wave of COVID-19.
In March, the MCHLG launched the 'Everyone In' campaign, asking local authorities to immediately house rough sleepers and those at risk of rough sleeping – irrespective of their nationality or entitlement to benefits – to protect their health and stop the wider transmission of the coronavirus.
By mid-April 5,400 people had been made an offer of emergency accommodation and by the end of November, over 33,000 people had been helped.
However, in May – according to the NAO's investigation – the MCHLG reminded councils that legal restrictions on offering support to people ineligible for benefits remained in force, and that exceptions should only be made in the case of risk to life. In response, some councils stopped housing those who were ineligible for benefits.
The NAO said that there were relatively few COVID-related deaths among the homeless with 16 fatalities recorded up to June 2020. The NAO believes that Everyone In may have avoided more than 20,000 infections and 266 deaths overall.
The NAO estimates that by the end of the financial year councils would have spent £170m rehousing rough sleepers in response to COVID-19, paid for by emergency grants, existing homelessness funding, and their own resources.
The auditor's investigation also found that the pandemic had revealed that there were many more rough sleepers than previously thought. In Autumn in 2019, the Government estimated that there were 4,266 people sleeping rough on any given night, compared to the over 33,000 people who were helped by Everyone In.
The Government's figure, however, does not include people in hostels, shelters or move-on accommodation and does not provide an estimate of the total rough sleeping population across the year.
'In partnership with local government, and the voluntary and private sectors, the Government acted swiftly to house rough sleepers and keep transmission rates low during the first wave. Despite this considerable achievement, the response raised key issues for government to address,' said Gareth Davies, head of the NAO.
'For the first time, the scale of the rough sleeping population in England has been made clear, and it far exceeds the Government's previous estimates. Understanding the size of this population, and who needs specialist support, is essential to achieve its ambition to end rough sleeping.'
For winter 2020-21, the Government launched the Protect Programme, which will run alongside Everyone In and will provide an additional £15m to councils with high numbers of rough sleepers.
In addition, the MCHLG has announced £12m of funding to provide self-contained emergency accommodation, and to help make night shelters safer to use, and in January 2021 they made an extra £10m available to support local authorities tackling rough sleeping.
However, the Local Government Association (LGA) says that long-term funding is needed to fight homelessness.
Responding to the NAO's report, Cllr David Renard, the LGA's housing spokesperson, said: 'Government funding for councils to tackle existing rough sleeping has helped. However, following the new lockdown, councils are likely to need further resources to protect rough sleepers.
'We also urge the Government to lift the No Recourse to Public Funds condition so that councils can ensure that everyone who is vulnerable can access help if needed, regardless of immigration status.'
He added: 'If councils are to prevent homelessness from happening in the first place, short-term reactive pots of funding need to be replaced by long-term funding issued through multi-year settlements to give councils the certainty they need to plan local services.'
In response to the NAO, an MHCLG spokesperson said: 'Our ongoing Everyone In programme has protected thousands of rough sleepers from COVID-19, so we are pleased the National Audit Office recognises its achievement.
'By November, we had supported around 33,000 people, with nearly 10,000 in emergency accommodation and more than 23,000 in longer-term accommodation.
'We recently announced an additional £10M to help accommodate rough sleepers and ensure they are registered with a GP to receive the vaccine, and we will invest £750M next year as part of our commitment to end rough sleeping.'