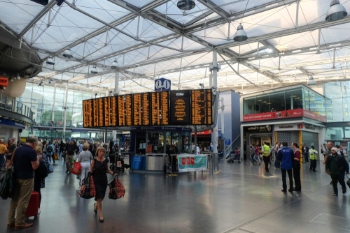 Mayor Andy Burnham has attempted to reassure passengers stuck at Manchester Airport that the Greater Manchester Combined Authority is working to 'support them in any way we can'.
The airport has been struggling in recent weeks as long queues to check in and pass through security have resulted in thousands of missed flights. The airport's managing director Karen Smart stepped down yesterday after two years in the position.
'Having taken on the position at the start of the pandemic, she has decided now is the time to return to the south of England, where her family is based, to pursue fresh career opportunities,' a spokesperson for the airport said.
Mayor Burnham met on Tuesday with the senior management of Manchester Airport.
He said that while certain issues, such as the impact of the pandemic, are beyond the control of the airport management, steps could have been taken earlier to avoid the current delays.
'Some of the issues being experienced by Manchester Airport are beyond their control,' he said.
'However, that is not to say that other things could not have been done differently.
'Firstly, while the airport has been making strenuous efforts to recruit, more should have been done earlier. Secondly, communications to passengers ahead of and upon arrival should have been better, as should the management of the queues.'
Greater Manchester Police have increased their presence at the airport. Mayor Burnham has also offered the airport the services of Transport for Greater Manchester staff to assist with queue management and communications.
The airport is trying to recruit staff, but one of the issues they are facing is the length of time it is taking for security checks to be completed.
Mayor Burnham said he is writing to the Minister for Security and Borders asking if large airports, such as Manchester, which are experiencing longer-waits for vetting, could be prioritised for a period to speed up the process.
Manchester Airports Group, which runs the airport, is partly owned by Greater Manchester's 10 local authorities.
'Manchester Airport is run independently of my office and the ten Greater Manchester Councils,' he said.
'That said, we do work to support them in any way we can and will continue to do so until we have worked through the issues caused by the pandemic.'