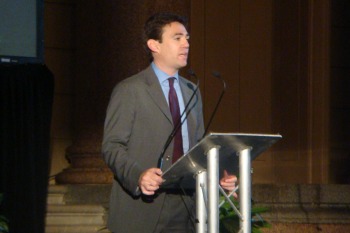 The Government has failed to give the English regions any meaningful role in the Brexit negotiations, Andy Burnham, the directly elected mayor of Greater Manchester, has said today.
Speaking at the LGA conference, Mr Burnham warned that the current 'over-centralised and London-centric' system was incapable of solving the problems highlighted by the Brexit referendum, which 'laid bare a pretty divided county'.
He said that David Davis has promised to meet with all the metro mayors last month to discuss the Brexit negotiations, but this invite had failed to materialise.
He called on the Government to set up a committee of the regions to ensure the Brexit process is not just dominated by London. For example, the regions should have a say in how immigration limits are set in order to protect their specific economic and industrial requirements.
'If we don't get it right, we could end up deepening and widening divisions,' he said.
He also called on the Government to commit to more regional investment, and to use Brexit to create an extra momentum for devolution.