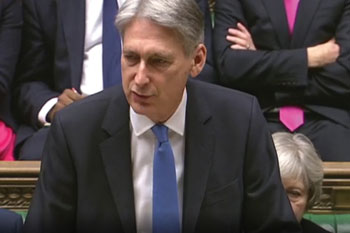 A £1.5bn support package has been announced in today's Budget to help address concerns raised about the delivery of Universal Credit.
Chancellor Philip Hammond said claimants will no longer have to wait seven days before they are entitled to a payment, and housing benefit will continue to be paid two weeks after a Universal Credit claim.
'Universal Credit delivers a modern welfare system, where work always pays and people are supported to earn,' Mr Hammond said.
'But I recognise the genuine concerns on both sides of the House about the operational delivery of this benefit. Today we will act on those concerns.'
Changes will also be made to the advance system so that households can access a month's payment within five days of applying. The repayment period for this will be extended from six to 12 months.
He added: 'This is a £1.5bn package to address concerns about the delivery of the benefit.'
Last month, the Resolution Foundation warned that the current design of Universal Credit is 'not fit for purpose' and is failing those in need. It found that only one-in-seven working-age families reliant on Universal Credit have savings worth more than a month's income.
In today's Budget, Mr Hammond also said the National Living Wage will increase by 4.4% to £7.83 per hour from April 2018.
The basic income tax threshold will also rise to £11,850 from next April, with the higher rate threshold increasing to £46,350.