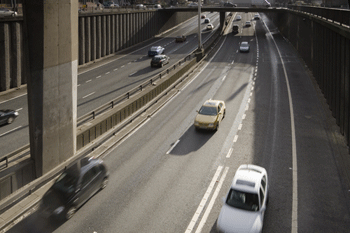 England will have a dedicated Roads Fund by the end of decade using ring fenced money coming directly from vehicle excise duty (VED) to protect the nation's crumbling highways network, chancellor George Osborne announced today.
In an announcement that will send shockwaves through the highways sector, Mr Osborne said the money would help fund 'a long-term solution' to fixing Britain's poor roads, which have at least a £12bn repair backlog in the local sector alone.
'I am creating a new Roads Fund. From the end of this decade, every single penny raised in VED in England will go into that fund to pay for the sustained investment our roads so badly need,' he said.
'We'll engage with the devolved administrations on how the money is allocated there. Tax paid on people's cars will be used to improve the roads they drive on. It is a major reform to improve the infrastructure and productivity of our economy - and deliver a fairer tax system for the motorist.'
As part of this major reform, from 2017 a new VED banding system will also be introduced to address the issue of falling fuel receipts from fuel-efficient cars, which by 2017 would see three quarters of new cars pay no vehicle duty the chancellor claimed.
The duty in the first year would be set according to emissions as it is today but 'updated for new technology'.
Thereafter new cars will be entered will three duty bands - zero emission, standard and premium - with the standard band covering 95% of all cars sold in the UK and requiring motorists to pay £140 a year, 'less than the average £166 that motorists pay today' the chancellor said.
There will be no change to VED for existing cars Mr Osborne added and promised that 'no one will pay more in tax than they do today for the car they already own'.
'In total we'll only raise the same amount of revenue from VED in the future that we do today - but that revenue will be secure for the long term,' he said.
He also confirmed that fuel duty would remain frozen for this year under plans set out in March.
There was also more progress on the Northern Powerhouse Agenda, with Transport for the North - the local government group masterminding the transport plans - to be put on a statutory footing.
The chancellor added there would be £30m handed to the new body to help support its work in bringing integrated oyster-style ticketing to the region.
The Government will also consult on extending the deadline for new cars and motorbikes to have their first MOT test from three years to four years, 'which would save motorists over £100m a year' he claimed.