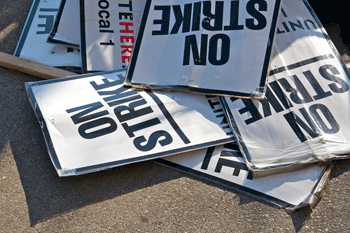 Council staff in Bromley are being balloting for strike action over claims it is to reduce its workforce from 3,000 to 300.
Trade union, Unite, is accusing the council of wanting to privatise every non-statutory service and 'slashing' its directly employed workforce.
Unite regional officer, Onay Kasab, said: 'Unite is drawing a line in the sand over the drive by this Tory council hell-bent on privatising and outsourcing much valued public services, such as libraries.
'The council has declared war on public services, public service workers and the trade unions. It is not acting on behalf of residents.'
The council denied the accusations it was 'privatising everything' and said the new service delivery model would provide best value for taxpayers.
A spokesperson for Bromley Council said: 'Bromley Council has to identify £50m savings over the next four years from a net budget of around £200m.
'We are examining all our services and cost pressures to find the most effective and efficient way of delivering quality services which focus on those in the borough who need them most. This is not about 'privatising everything' but looking at alternative cost models and service delivery options to provide the best value for money for Bromley taxpayers.'
The ballot for strike action opens on 11 March and closes 27 March.