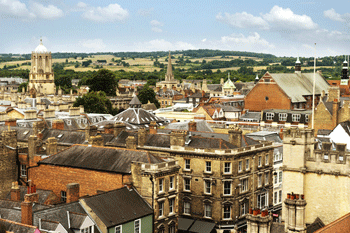 Prime minister David Cameron has said it is 'fantastic' news that Oxfordshire is Britain's first county to become a 'Social Enterprise Place'.
Social Enterprise UK – who awarded the status – said the county was 'committed' to supporting businesses that hold a social or environmental mission and reinvest their profits for good.
The county will host a series of events this month including the UK's first Socail Saturday, which will aim to raise awareness and boost the number of people buying from social enterprises.
More cities, towns and villages are soon expected to be recognised for their commitment to social businesses.
Cameron – whose constituency, Witney, is located in the county - said: 'It's fantastic that Oxfordshire is the first county to become a Social Enterprise Place – a beacon of social enterprise activity.
'Social enterprises trade to tackle some of the greatest challenges we face, from unemployment to food waste. The UK is home to the largest and fastest growing social enterprise sector.
'Social Saturday is a great way to raise awareness of the vital and growing role social enterprises play in our economy and local communities in Oxfordshire and across the country,' the prime minister added.
Peter Holbrook, CEO of Social Enterprise UK, said: 'Social Enterprise Places are re-injecting life into local communities and economies across the county, creating opportunities and wealth, often where needed most.
'Social enterprise plays a vital role in regeneration and in the UK's most deprived communities.'