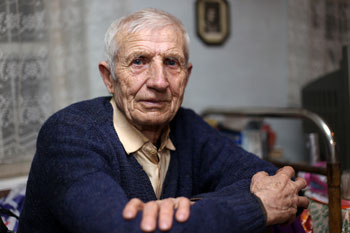 An elderly persons charity has warned that Britain is on the verge of an 'accessible housing crisis' due to planning policy failures.
Just 7% of UK homes meet basic accessibility standards, according to the English Housing Survey, despite national rules stating that a proportion of every development should include accessible homes.
The Centre for Ageing Better argues that the lack of accommodation fitted with features like level access entrances, walk-in showers or handrails is due to a national planning policy which is 'fragmented'.
The charity says that the Government's planning policy provides 'no clear guidance' to councils, who are responsible for delivering accessible housing, and that there is no standardised way to assess current and future need for accessible homes in an area.
They also said that local plans which would deliver accessible homes are often rejected.
A YouGov poll, commissioned by the Centre for Ageing Better, has revealed that nearly half (48%) of the population do not think society does enough to enable people to live independently and safely at home as they grow older.
This finding is supported by the fact that one in five homes in England is deemed 'non-decent', with non-decent homes disproportionately lived in by people in later life.
'The woeful state of today's housing stock is amongst the worst in Europe,' said Dr Anna Dixon, chief executive of the Centre for Ageing Better.
'With more and more people living for longer, and many of them managing health conditions, this situation is unsustainable.
'We are facing an accessible housing crisis, putting unnecessary pressure on individuals, families and public services. If we do nothing, this will only get worse.'
New-build homes are also often aimed solely at first-time buyers and do not consider the needs of a diverse range of occupants over the lifetime of the home, according to the charity.
The YouGov poll of 4,000 UK adults revealed that nearly three quarters (72%) of respondents think all new homes should be built to be suitable for all ages and abilities.
'There is a big market for homes that everyone can live in, regardless of their age or ability,' said Dr Dixon.
'Our research shows a strong public appetite for age-proof homes which enable people to live active and fulfilling lives – whatever their situation.
'We need everyone responsible for building new homes to get on board and give people what they want.
'National rules must be strengthened, and planners within local authorities must work with developers and builders to enforce them. As we seek to build more homes, we must make sure that they are suitable for everyone.'
Commenting on the Centre for Ageing Better's research, George McNamara, director of policy and influencing at Independent Age, said: 'It is shocking that the government's housing policy does virtually nothing to address the housing needs of older people, putting their safety and health at risk, as well as their ability to live independently.
'Purely leaving it to the market to find solutions has not worked. Failing to act now will only store up greater problems for the future and cause greater hardship to thousands of people in later life.'
'We urgently need a housing revolution that recognises the changing needs of an ageing population, ensures greater availability of accessible housing and introduces enforceable targets and tougher regulations,' he added.