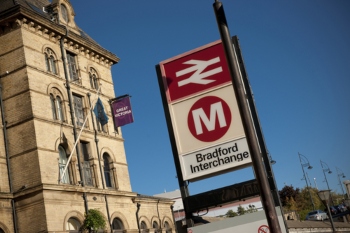 The Yorkshire city of Bradford has the worst rail connections of any major British city, a new study of thousands of train journeys has found.
The data analysis published by Bradford City Council looked at more than 3,000 real-life train journeys between 20 cities and compared them with the same journey by road.
The analysis revealed that despite being Britain's seventh biggest city, Bradford 'finished bottom due to a lack of direct rail routes and slow connections.'
The council has been campaigning for a Northern Powerhouse Rail (NPR) station in Bradford city centre. They argue that an NPR station would slash journey times from the city to Manchester and Leeds, bringing 6.7 million people and an area of over £167bn of annual economic output to within a 35-minute journey of central Bradford.
Cllr Susan Hinchcliffe, leader of Bradford Council, said: 'This new research shows that the city that would be the most improved by investing in better rail connections is Bradford.
'A new city-centre station for Bradford would transform the connectivity of three of Britain's largest cities using existing rail services, while also delivering a station able to handle Northern Powerhouse Rail services.'
However, it was reported over the weekend that the Government's Integrated Rail Plan (IRP), which will be published on Thursday, will see upgrades to the track between Leeds and Manchester rather than a new line via Bradford.
Photo: Electric Egg / Shutterstock.com