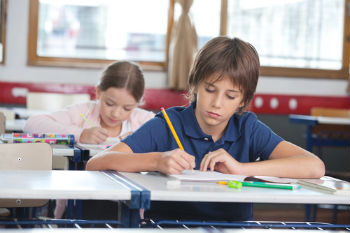 Boys are twice as likely to fall behind girls in basic language skills by the time they start school, a new report has warned today.
Save the Children said the findings reveal the 'potentially devastating and lifelong consequences' for boys in England. Last year, 80,000 boys in England started reception class struggling to speak a full sentence or follow basic instructions.
The report found the gender gap is most extreme in St. Helen's, Merseyside, where boys started primary school over 17 percentage points behind their female peers. It found no areas in England saw boys outperforming girls in early language skills.
The research also found boys in poverty are falling the furthest behind, with 40% of the poorest five year old boys falling below the expected standard in early language and communication.
The charity said that at this rate, nearly one million boys will be at risk over the next ten years unless improvements to early years education is made.
Save the Children are calling for every nursery to have a qualified early years teacher to help identify the children falling behind.
Gareth Jenkins, director of UK poverty at Save the Children, said: 'Every child deserves the best start in life. But in England, too many children, especially boys, are slipping under the radar without the support they need to reach their potential. They're falling behind before they even get to school and that puts their life chances at risk. In 2016, this is unacceptable. A whole generation of boys is being failed.'