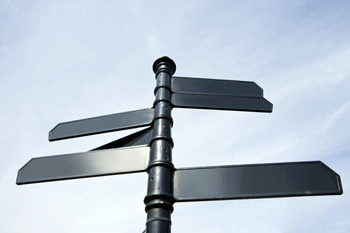 London streets could be emptied of 'clutter' under new legislation freeing boroughs from needing to gain permission for erecting lampposts and signs.
While councils were previously required to gain approval from businesses before placing signs or lights on their property, a new code of practice from body London Councils means boroughs will now only need to give building owners 56 days' notice of their plans.
However property owners will still have the right to challenge these decisions and block signs or lights on their land.
Boroughs will only be able to use these powers if they sign up to London Councils' new guidance on the issue.
The measures are expected to help make pavements safer for people with impaired mobility by reducing the number of obstacles pedestrians encounter.
Cllr Julian Bell, chair of London Councils' transport and environment committee, said: 'Street signage and lighting is essential but too often the posts and columns are ugly and intrusive. Everyone benefits from approaches which protect the look and feel of our streets.
'These new guidelines will empower boroughs to reduce the need to install more and more street furniture and reduce the cost of putting up signs and lights.
'The document has also been designed as an informative and accessible tool to help property owners understand their rights under the legislation. Our aim is that boroughs, residents and business owners will work together to protect the capital's urban environment.'