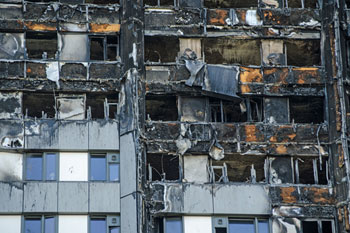 London boroughs marked the fourth anniversary of the Grenfell Tower fire yesterday by calling on the Government to put in place a fire safety regime that is 'fit for purpose'.
London Councils said that the fire, which killed 72 people, exposed critical issues with the building safety regulatory regime.
The 2021 Fire Safety Act and Building Safety Bill included in the Queen's Speech strengthens fire safety regulation, the group acknowledged. However, it only applies to buildings taller than 18 metres or with more than six storeys.
London Councils insisted that legislation should be based on the overall risk profile of a building, not an 'arbitrary height measurement'.
They cited the case of the fire at Samuel Garside House in Barking, which is six storeys high and just under 18 metres tall. While no one was hurt, it required 79 households to flee to safety as the building went up in flames within minutes.
The group also called for robust powers for local authorities to enforce fire safety in leaseholder-owned properties and insisted there needed to be 'significant investment' in social housing.
'Boroughs want to work with government to ensure all residents are safe and feel safe in their homes. Four years on from Grenfell, further and faster action is required to ensure a fit for purpose fire safety regime,' said Cllr Darren Rodwell, London Councils' executive member for housing & planning. 'In my own borough of Barking and Dagenham, we have seen that buildings below the 18-metre threshold for the government's funding and legislation can still pose a real threat to residents' lives, and I know local authorities across the capital agree. 'We need significant investment from government in social housing to address our residents' legitimate concerns about fire safety and ensure they can live in homes which meet their needs.'