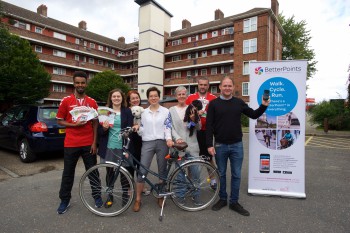 People in a London borough are to be given vouchers to spend in high street shops as a reward for walking or cycling instead of driving cars.
The scheme, aimed at helping tackle air pollution, has been launched in Greenwich, one of five 'low emission neighbourhoods' in the capital funded by London mayor Sadiq Khan's air quality fund.
Cllr Danny Thorpe, deputy leader of the Royal Borough of Greenwich, has met residents to talk about the new project and show them how they can use a smartphone app to track their walking and cycling.
It enables people earn points they can cash in for vouchers for high-street shops or donate to charity.
Cllr Thorpe, who is also the council's cabinet member for regeneration and sustainability, said residents were enthusiastic about adopting new ways of travelling.
'Our aim is to improve air quality across the whole of Royal Greenwich and these projects will help us gauge how best we can engage with residents and look at what else we can introduce across the whole borough.'