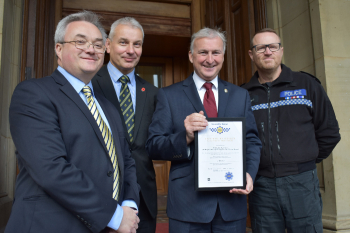 Birmingham City Council has become the first council to join a national police-run scheme which will see crime prevention techniques built into all its new social housing developments.
The National Building Approval (NBA) scheme makes it simpler and cheaper for organisations to achieve the security requirements contained in the building regulations for standard building types, such as houses and apartments.
Run by the police initiative Secured by Design (SBD), the scheme will ensure the installation of crime prevention measures, such as robust doors, windows and locks.
Research has found that homes built to SBD standards can reduce crimes like burglary by up to 87% compared to equivalent non-SBD developments.
'Birmingham City Council is proud to work with Secured by Design on this initiative that will give residents peace of mind in their homes,' said the council leader Ian Ward.
'Through innovative design and planning, we can begin to future proof the safety of those who live and work across the city and, where possible, eliminate anti-social behaviour in local neighbourhoods.'
West Midlands Police, designing out crime officer, Gareth Pemberton, said: 'This agreement will speed up and tie everyone into the process of reducing crime. It will ensure a high standard of security will be enjoyed by residents and local communities in the years ahead.'
National lead for the SBD National Building Approval scheme, Michael Brooke, said: 'Birmingham City Council will benefit from reduced crime and anti-social behaviour and achieve cost savings. This is all good for local authorities in tough financial times.'