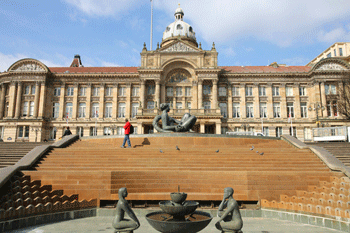 Birmingham City Council has said it is 'very disappointed' by the results of a special educational needs and disabilities inspection and said it would take urgent action to make 'significant improvements'.
An Ofsted and Care Quality Commission (CQC) joint inspection has found that there is a 'lack of strategic and coordinated leadership' from the council, which means that SEND pupils have 'failed to achieve as well as they should have done.'
The joint inspection's report warns these pupils make weak academic progress, attend less often and are excluded more frequently than other pupils in Birmingham and all pupils nationally.
This has had a knock on effect on SEND employment, the inspection results revealed. The proportion of adults in Birmingham with learning disabilities in paid employment is below the national average.
Birmingham CC introduced a number of reforms in 2014 in order to improve delivery for SEND pupils.
However, the inspection found that leaders have not ensured these reforms had a marked impact on improving provision and outcomes for children.
'Actions to benefit children and young people who have SEN and/or disabilities have been happening in isolation,' the report reads.
'There has been a complete lack of strategic planning. A great deal of what is good is the result of the qualities of the individuals who are delivering aspects of the provision.
'There has not been a robust and coordinated implementation plan to realise the desire of professionals who want to do the right things for children and young people in Birmingham.
'The local area cannot simply adapt what is already in place to improve provision and outcomes.'
Cllr Kate Booth, cabinet member for children's wellbeing at Birmingham City Council and Dr Richard Mendelsohn, chief medical officer at NHS Birmingham and Solihull Clinical Commissioning Group (CCG) said they were 'very disappointed' by the findings before adding they fully accepted them.
'The report has highlighted several areas of strong and positive practice; however, a number of significant improvements urgently need to be made,' they said in a joint statement.
'This work is being prioritised by all organisations involved, to ensure a clear focus on improving standards and addressing the concerns that have been identified.
'In order to make the improvements required, we are very aware that there needs to be a fundamental change in how we work together, and also with children, their families and carers.
'We will do this by: engaging with the people who are already using the services, and working with them to co-produce the solutions with us, to ensure that they work for everyone; by ensuring more effective joint working between front line staff across the NHS, in education, and social care; and by addressing the difficulties that are currently being experienced with accessing the right local services, in a timely way.
'We are absolutely clear that services need to improve significantly, and rapidly, so that children and young people in Birmingham have their needs met and are properly supported; this is to ensure that they can achieve their full academic potential and can lead fulfilling lives.'