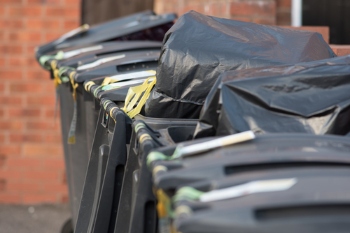 A two-week bin strike in Wiltshire affecting 220,000 homes began yesterday after GMB members turned down a new pay offer.
The industrial action was due to begin on 28 February, but was postponed after Hills Municipal Collections made an improved offer of a pay rise equal to a minimum of 7.1% from 1 March 2022 with a backdate of between 2% and 10% from October 2021.
GMB members rejected the offer while Unison members accepted it.
A spokesperson for Hills said: 'This is a very disappointing outcome, we have moved our offer considerably over the previous weeks and we firmly believe that the pay offer provides a fair settlement in relation to inflation and indexation, which we know is impacting the cost of living. The offer is in line or ahead of comparable local pay awards and it provides positive certainty in a time of increasing volatility.'
Gary Palmer, GMB Regional Organiser, commented: 'It appears snatching defeat from the jaws of victory might be the overall plan for Hills, even as the threat of strike action grows closer.
'Their problem is that every offer they make which falls short of our members' self-valuation, makes them angrier and more unhappy with how they are being treated.
'We have offered a solution and it's now the responsibility of Hills to come to the table and accept that, otherwise they have to take ownership of the disruption to services and the effect this will have on homes and businesses across the county.'
Cllr Dr Mark McClelland, Wiltshire Council cabinet member for waste, said: 'We will do everything we can to limit the disruption caused by the industrial action. We have contingency plans in place in case of a situation like this, which we hope will help to keep disruption for residents to a minimum.
'If there are any bins not emptied as scheduled then we ask people to leave them out and the teams will do their best to collect them the following day.
'The industrial action is out of our direct control and is a matter for the GMB and Hills Municipal Collections. However, I know that Wiltshire residents will share my bitter disappointment that we face an elevated risk of disruption to services due to this revised pay offer being rejected by the GMB.
'We would like to thank everyone for their patience and understanding during this time.'