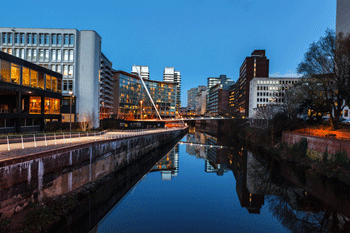 Cities have been urged to foster knowledge over low-skilled jobs after research suggested a 'culture of innovation' was crucial for determining future economic success.
Analysis of Britain's urban areas over the past 100 years by Centre for Cities reveals today's best performing metropolitan regions are those that began the Twentieth Century with a higher base of knowledge-rich roles, while those that are currently struggling have maintained a focus on low-skilled roles.
Emergence of the North-South divide has not been entirely down to manufacturing decline, the think tank found, with professional roles having a 'much stronger' impact on current success.
Some 11 of the 16 cities that have reinvented their economies towards knowledge-intensive industries are in the South, while 30 of 41 that maintain low-skilled industry bases are located in the North, Midlands or Wales.
Research also revealed that over twice as many jobs were created in the South than in these regions over the past century.
Manchester was said to be reaching a 'turning point' in its modern knowledge-based economy thanks to strong leadership, following the loss of 400,000 local manufacturing roles in the past 100 years.
It was found that 11 cities had fewer jobs in 2013 than in 1911, with former textile manufacturer Burnley losing around half of its roles over this period.
'We must take heed of the lessons of the past when planning for the future. This means ensuring that local economic growth policies are focused on helping cities to build sustainable industrial structures that favour knowledge-based activities – through supporting them to invest in skills and education, and to create adaptive and innovative business environments for the 21st Century,' Centre for Cities' acting CEO, Andrew Carter, said.
'In doing so, we will give a much larger number of places – and the people who call them home – a better chance to share in the prosperity of today, and tomorrow.'