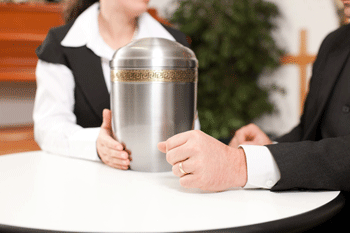 Staff at Hull City Council failed to provide ashes for up to 57 families whose babies had been cremated, an internal investigation has concluded.
A report into the council's handling of infant cremations said the families had been given 'incorrect or incomplete information'.
The council apologised and admitted 'inconsistencies' in its records.
As well as supporting parents and families by providing and reviewing available information it had put a number of measures in place to stop it happening again.
But a local couple who led a campaign by bereaved families said they were disappointed and called for an independent inquiry.
Deputy chief executive of Hull City Council Trish Dalby said: 'Bereavement is an extremely distressing time for any family to face and our thoughts are with those who have been affected by the loss of their child.
'We have endeavoured to ensure that all parents who have come forward have been offered individual meetings, and a detailed and thorough examination of all available records, and anyone else who has been affected by this issue should contact us so we can offer direct support and provide any detail we have on each individual loss.
'As we have done so far, we will provide any and all information that we have to the parents, irrespective of when the loss of a baby happened, and we will continue to respond to each and every enquiry.
'Our priority is to ensure that families do not have to go through similar experiences in the future following the death of a baby, and we will continue to work with all parties to ensure the necessary changes are comprehensively implemented.'
Last month Angela Scott, chief executive of Aberdeen City Council, apologised unreservedly after the authority was named in a report heavily criticising how babies were cremated at local facilities in Scotland.