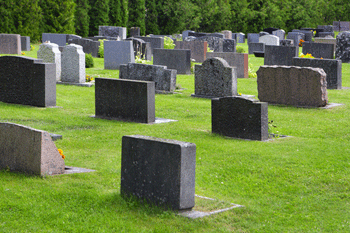 Funeral costs have risen by 3.9% in the past year, with new analysis showing bereaved people are facing a 'postcode lottery' over fees.
Research by Royal London reveals that the average cost of a funeral ranges from from £2,976 for a cremation in Greenock, to £7,216 for a burial in Beckenham, Kent.
The National Funeral Cost Index 2015 also highlighted the cost difference on a national level, with people in Wales facing an increase of 5.2% compared to just 2.4% in Scotland.
Simon Cox, a funeral cost expert at Royal London, said: 'The rising cost of an average UK funeral is very concerning; it's outstripped inflation considerably for many years –almost in line with house price rises, which as we know continue to rise rapidly as demand outstrips supply.
'The UK funeral system still displays fundamental failings, which we reported last year. Vulnerable bereaved people are taking on increased debt; and we predict this problem will worsen if steps are not taken to tackle the many, persistent causes driving up the cost of funerals.'
Royal London is urging policy-makers to address the scarcity of burial plots and review the 'inadequate' Social Fund Funeral Payment system to help those struggling with funeral debt.
Heather Kennedy, campaign manager for Fair Funerals, added: 'Over the past 12 years we've seen the Fund erode further and further to the point where even those who are eligible will only receive enough to cover around 35% of the price of the basic funeral.
'The result is people are left struggling with very substantial debts they often have no way of clearing, often at the worst time of their life.'