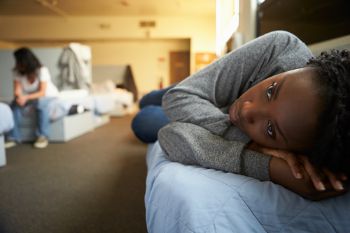 Benefit sanctions are leaving people homeless, hungry and destitute, and making it even harder for them to find work, according to the homeless charity Crisis.
The report, based on a survey and prepared by the Centre for Regional Economic and Social Research at Sheffield Hallam University, found that 53% of respondents said sanctions made it harder for them to secure or maintain a job.
It also learnt that 42% of those who took part in the survey found that sanctions made it harder to continue with training/courses/groups and 50% said it was more difficult to maintain their permanent or temporary housing.
The survey was based on more than 1,000 people from homeless hostels and day centres in 21 cities, along with 42 in-depth interviews, and discovered that benefit sanctions are hitting the most vulnerable, such as those who are already homeless, care leavers and those suffering from mental ill health.
According to the survey, of those sanctioned:
64% said it had a negative impact on their physical health.
61% had received a food parcel from a food bank.
28% had resorted to begging.
38% had stolen or shoplifted food.
19% had taken out a loan from a loan shark or pay day lender.
The report also shows that people who had been in local authority care were more likely to have been sanctioned compared to other homeless people (49% compared to 36%), and people with mental ill health were more likely to have been sanctioned compared to people without mental ill health (45% compared to 34%).
Jon Sparkes, chief executive of Crisis, said: 'Benefit sanctions are a major cause of homelessness and poverty. They're hitting vulnerable people hardest and preventing them from finding work. Many will be trying to rebuild their lives or coping with trauma or illness. At times like this, losing the support of benefits can be disastrous.
'Sadly, the vast majority of people we spoke to wanted to work and agreed there should be some sort of conditions attached to benefits, yet too often the system didn't take their circumstances or aspirations into account and instead seemed to treat them with mistrust.'
He continued: 'It's clear that the regime isn't working for the most vulnerable. The government's recent proposal for a two week period of appeal doesn't go far enough. We must make sure that homeless people and those at risk of homelessness are identified and protected from an early stage.'